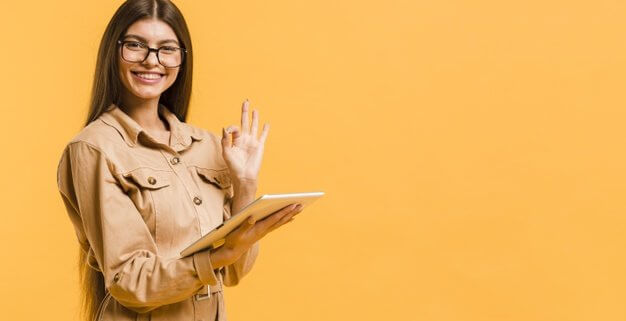 Being invited to an interview means that the hiring team has reviewed your resume and recognizes your potential. This is your chance to further highlight the information on your resume.  They want to know more about what you could bring to the position. In this article, we give you some ways to present your best self in an interview and increase your chances of being hired:
Research the company
Show an interviewer that you have an understanding of the business, knowledge of the industry or some insight into the direction the company may be heading. Then, showcase how your skills and experience would benefit them in reaching their goals.
Outfit selection
Dress for the job you want. Choose an outfit that is professional and comfortable to help you feel confident during the interview. What you wear to an interview helps an interviewer or panel determine your professionalism and suitability for their workplace.
Bring a notepad and pen
Come with a notepad and pen to make notes in the interview, including interviewers' names and anything important that comes up in the course of the conversation. While you take notes, be sure to stay engaged with the interviewer, making eye contact when you speak to them and nodding as they speak to you.
Use facts cater your achievements
When you're answering questions about what you have achieved in previous roles, use data to back up your statements. For example, if you have experience in sales, explain that you were responsible for increasing sales by 20% in that role. If you have had success with previous customers, give details of your positive feedback and how your customer satisfaction rating has been consistently higher than average.
Be prepared
Review some of the most common and tough interview questions to prepare quality answers to use in your interview.
Here are some tips of What Not To Say on a Job Interview.
Aside for being prepared on their questions, you also need to prepare your own questions. Many interviewers ask if you have any questions near the end of the interview, and it's always helpful to have a few relevant questions to help you learn more about the role and the company.
Additional tips to prepare for your interview
Here are some additional tips to help you prepare for and succeed in your interview:
Arrive early to gather your thoughts and get refreshment if needed.
Assess whether you want this job and if you're suited for it, just as the interviewer is determining your suitability.
Plan your journey to the interview, including parking and public transit.
Eat before the interview to ensure you are as comfortable as possible.
Send a follow-up or thank you email after the interview to show your appreciation for their time and consideration.
Bring copies of your application and resume with you so that you can check dates or remind yourself of figures if you are asked. Moreover, it helps to have a copy for all interviewers ready so they can follow along.
Practice providing your answers through a mock interview with a friend, coworker or mentor.
Source: Indeed.com
https://upgradelifestyle.fun/wp-content/uploads/2020/09/woman-looking-tablet-studio_23-2148410948.jpg
417
626
Jessica Admin
https://upgradelifestyle.fun/wp-content/uploads/2020/09/upgradelifestyle-logo2.png
Jessica Admin
2021-06-07 07:19:57
2021-06-07 07:19:57
How to Pass a Job Interview